2015 - 2016 | GENERATIVE VIDEO INSTALLATION | FOUND POSTCARD, PIXEL-SORTING CUSTOM PROCESSING APPLICATION, CUSTOM MADE BEANBAGS, SPEAKERS, SOUNDSCAPES | VARIABLE DIMENSIONS


PROGRAMMING COLLABORATORS: OSCAR LLAUQUÉN LEVI & JULIO TERRA
Weather has been nice is a series of generative video installations in which vintage found postcards are slowly broken down into their basic elements. Mailed from around the world, with their exaggerated colors and iconic images, these commoditized stereotypical landscapes are non-places – at the same time unknown and familiar.
A pixel sorting algorithm manipulates the postcards, lunging them into movement, and generating a dynamic glitch that slowly decomposes into the dominant colors. The custom made application triggers a transformation, creating a system where the elements are continuously regenerating and composing new images. Each postcard reacts differently according to its own pixels.
Weather has been nice presents us with images unfolding, becoming images. By appreciating these postcards as an instant that unfolds, we become aware that landscape, like memory, is not a fixed static entity outside of ourselves, but rather an intimate experience in constant transformation.
The installation is an ongoing project that has taken multiple forms. It has been shown in gallery spaces projected onto different configurations of large suspended plexiglass panels, and displayed on expansive media walls. For its latest iteration, at Sonar Festival in Santiago on December 2015, it was shown as a 40 meters wide projection on an airplane hangar.
This version presents an immersive audiovisual experience. The expansive space at Sala de Arte CCU will be covered by synthetic grass and scattered with beanbags. Large-scale projections of ever-changing landscapes will cut through the center of the room. Each seat, complemented by a unique soundscape, will offer an intimate vantage point for the ever-changing landscapes
For the first time text from postcards will be incorporated into the installation. Ten sound artists and musicians have created soundscapes using recordings of transcriptions from one hundred found postcards. Each artists was given ten postcards along with a simple set of guides for the composition. Their scores will be embedded in beanbags, created in collaboration Print All Over Me.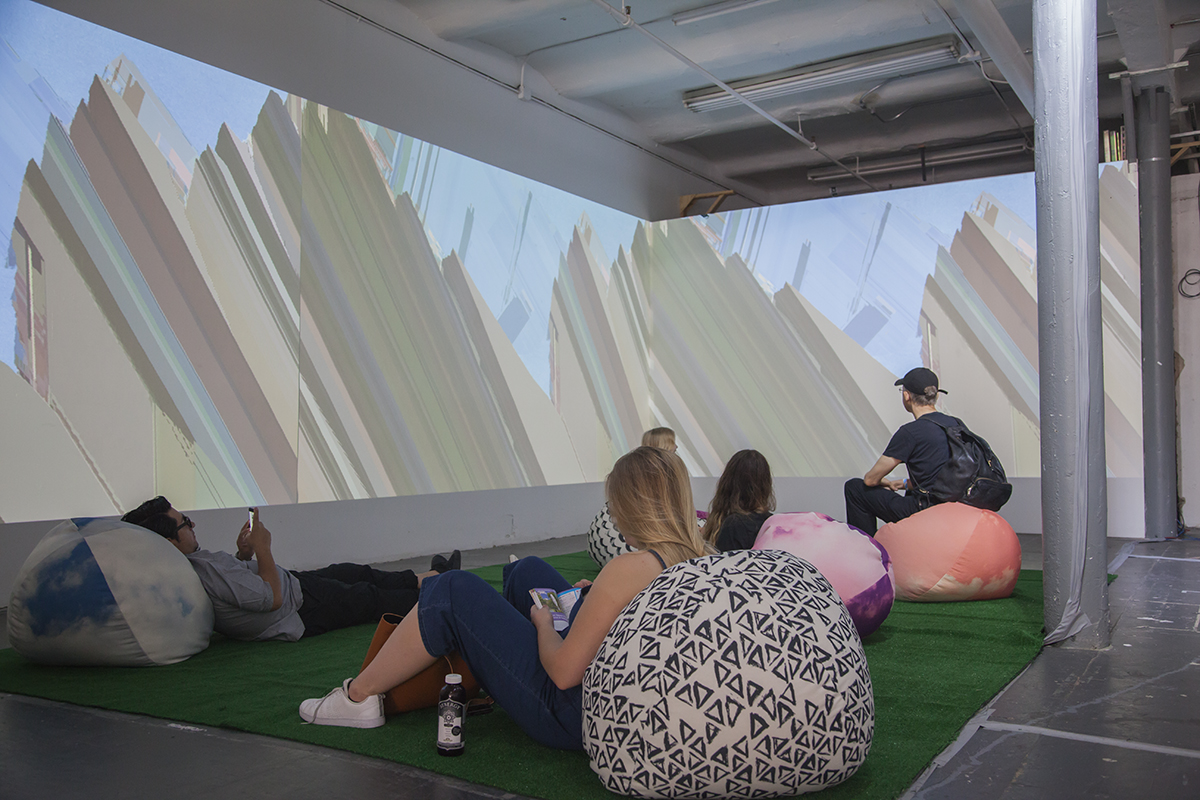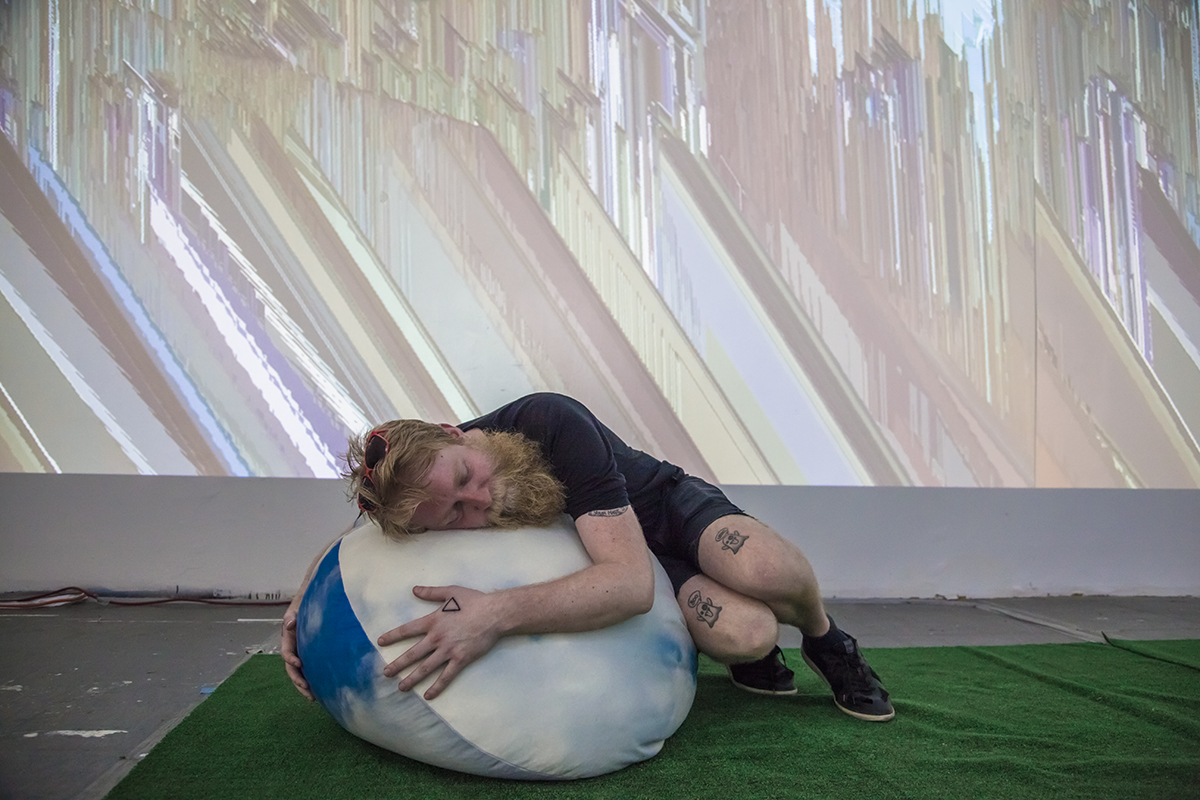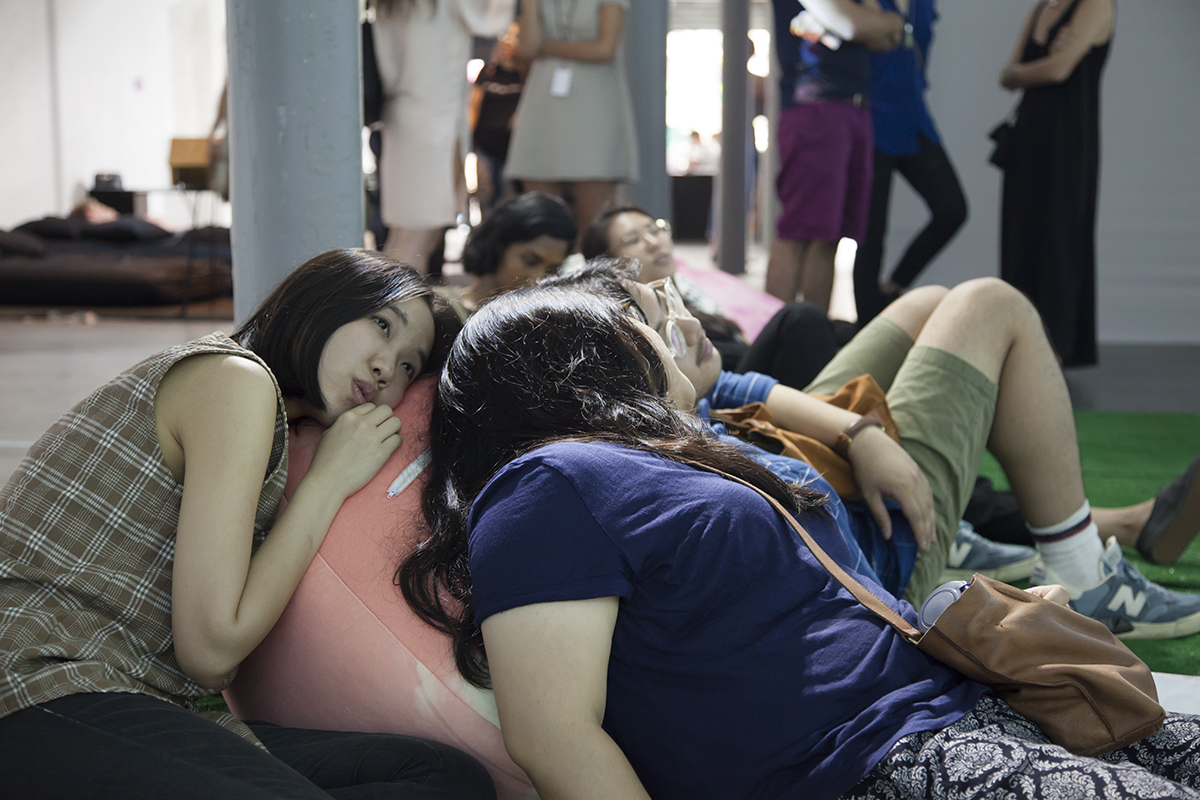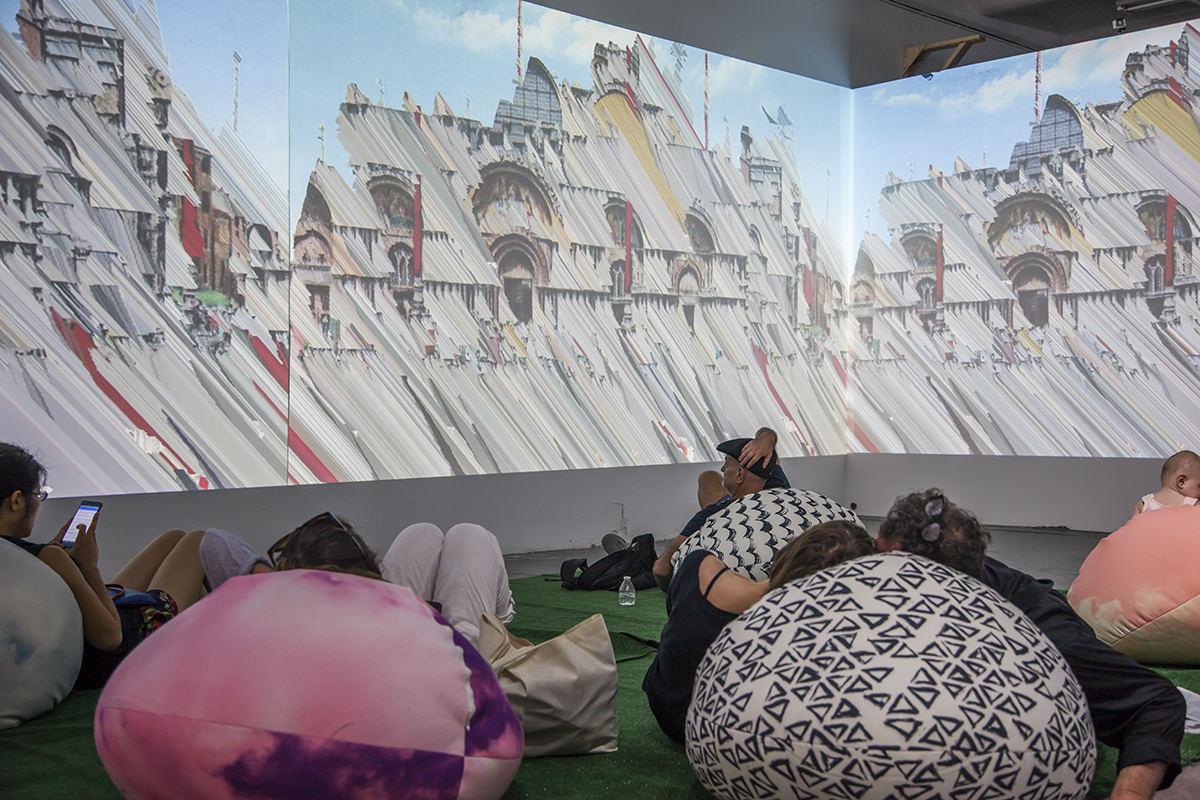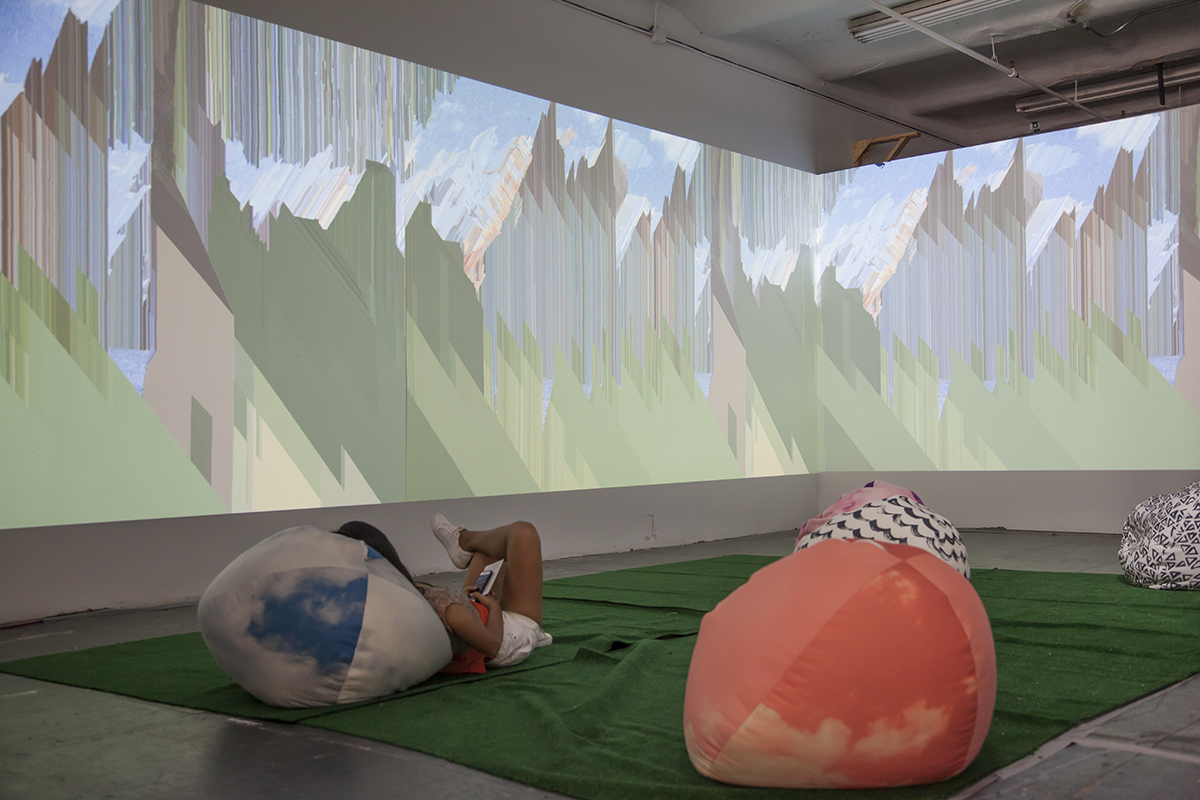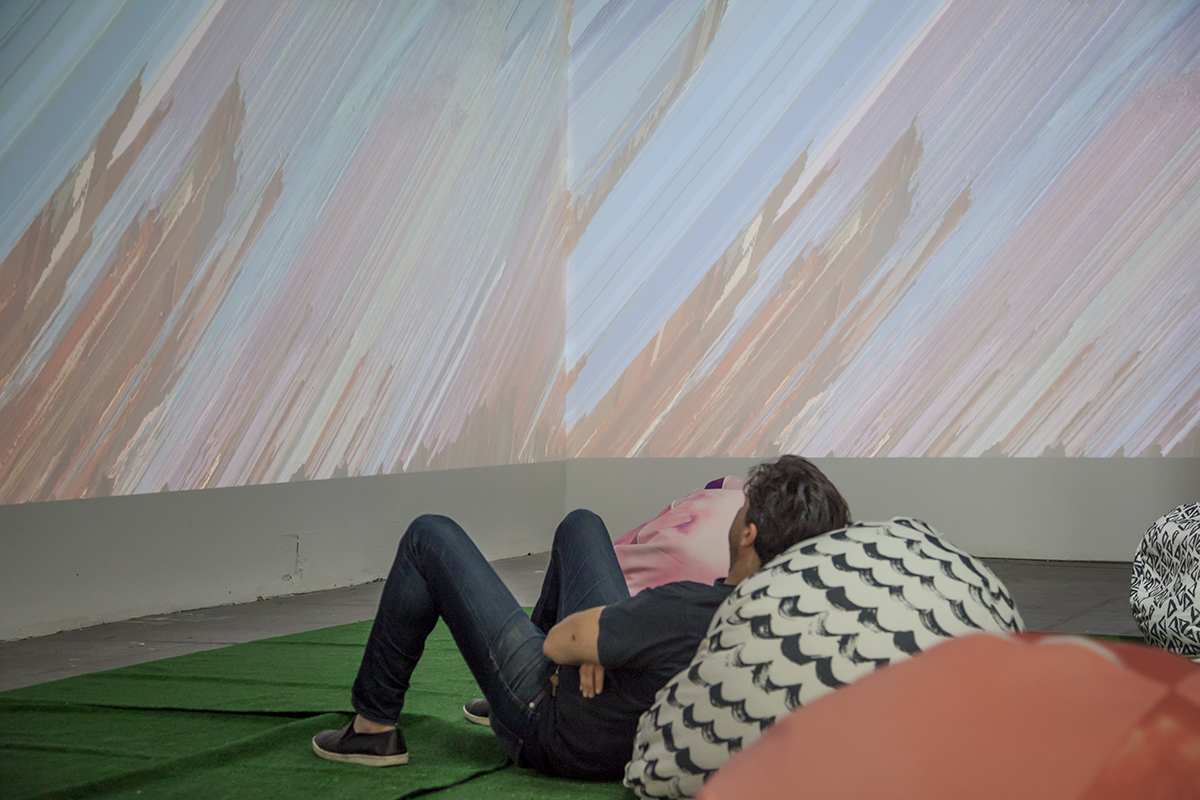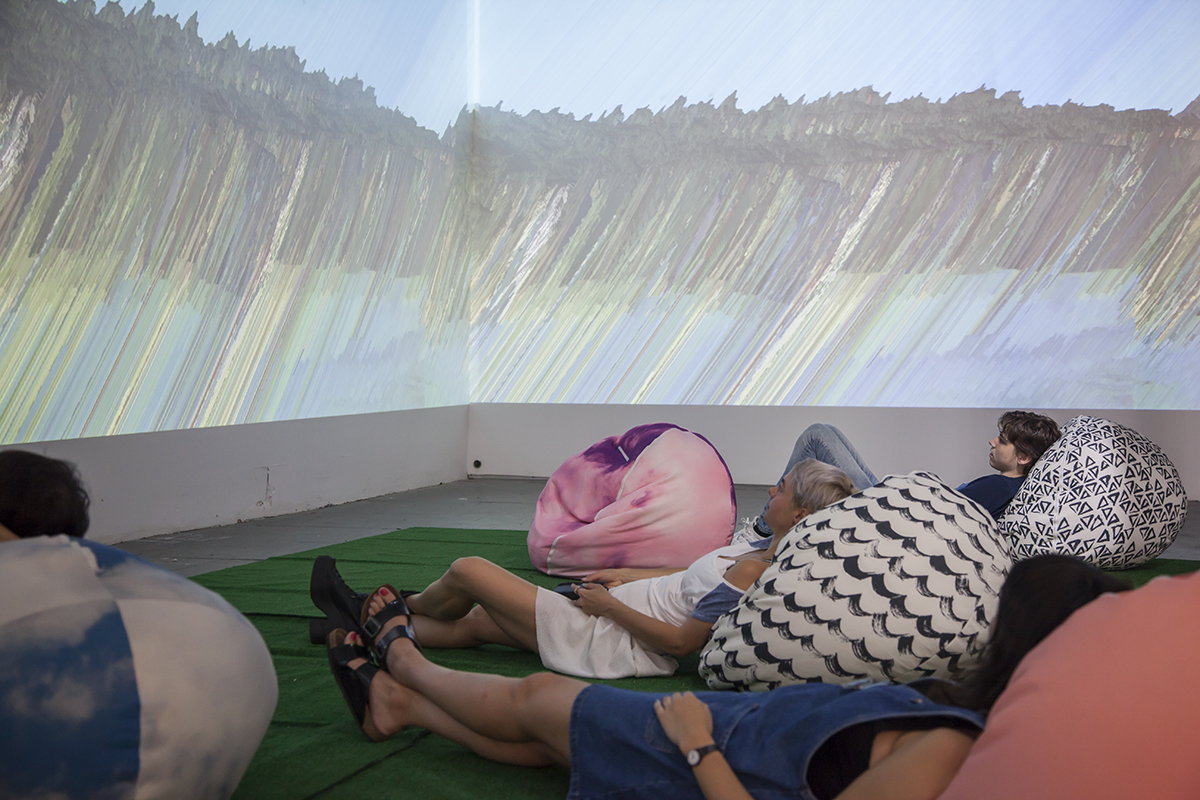 Participating sound artists:
Audra Wolowiec is an interdisciplinary artist based in New York City. Her work oscillates between sculpture, installation, text and performance with an emphasis on sound and the material qualities of language. Her work has been shown internationally and in the US at MASS MoCA, Socrates Sculpture Park, REVERSE, Center for Performance Research and Art in General. She currently teaches at SUNY Purchase and was the inaugural Artist Educator in Residence at Dia:Beacon. http://www.audrawolowiec.com/
Felipe Cussen is a PhD in Humanities from the Universitat Pompeu Fabra and researcher at the Institute for Advanced Studies at the University of Santiago, Chile. His academic research is focused on the field of comparative literature, especially experimental literature and mysticism. Cussen recently released the album "quick faith" (records without records, 2015), the book "Explicit Content" (PDF Gauss, 2015), and the project "Corrections" (Information as Material, 2016). https://felipecussen.bandcamp.com
Hans Tammen creates sounds that have been described as an alien world of bizarre textures and a journey through the land of unending sonic operations. He creates rapid-fire juxtapositions of radically contrastive and fascinating noises, with micropolyphonic timbres and textures, aggressive sonic eruptions, but also quiet pulses and barely audible sounds. Numerous projects include site-specific performances and collaborative efforts with dance, light, video, and theater. His works have been presented on festivals in the US, Canada, Mexico, Russia, India, Israel, South Africa and all over Europe. http://www.tammen.org
Martín Gubbins is one of the founding members of the Forum of Writers (www.fde.cl), and one of the leading figures of the avant-garde literary scene in Chile. He has published several books of poetry and visual poetry in Chile, United States, England and Mexico. He has recorded several sound poetry albums, solo and in collaboration with other artists. His work has been published in dozens of anthologies and has participated in numerous solo and group exhibitions, installations, readings, concerts and performances in various parts of the world. www.martingubbins.net
Merche Blasco is an interdisciplinary artist and composer whose practice includes building instruments for electronic music performance, orchestrating participatory sound performances in public spaces, and electroacoustic improvisation. She has presented her performances and installations at NIME conferences, Sonar Festival (Barcelona), Queens Museum of Art (NYC), Harvestworks (NYC) and the Museum of Contemporary Art in Santiago de Chile, among others. Her work has been featured in The New York Times, The Wall Street Journal, and Wire magazine. Half-half
Nicole L'Huillier is a Chilean musician, architect and artist currently based in Boston, where she is working as a research assistant and master student at the MIT Media Lab. Her work explores spatial experience, perception and the relationship between sound & space. She creates multi-sensorial experiences by working in the intersection of space, art and technology. Her work is based on the idea of architecture not for a purpose but for an effect. www.nicolelhuillier.com
Ricardo Luna (Richi Tunacola) is an Ableton Certified Trainer. He graduated in Composition and Arrangement at the Modern School of Music and in Musical Arts at the University Andres Bello. As a composer, he has written several chamber works, exploring the integration of electronic instrumentation, sampling, text and video. With Sebastián Vergara, he founded the integrated arts ensemble Bison, and the improvisation group Gappuda Modernrockers. He has composed music for film, television, advertising and theater. Luna is founder of the electro-pop group Tunacola, and with the New York based MC Loki Da Trixta, forms the latin rap duo Boom Chomba.
Richard Garet holds an MFA from Bard College. Recent projects include Screen Memory, Galerie Burster, Berlin; Midnight Moment, site specific work created for the electronic billboards of Times Square, NY; Meta-residue: Input Material, Space, Studio 10, NY; Theorem: You Simply Destroy the Image I Always Had of Myself, Maná Contemporary, NJ; Adrenalina, Red Bull Station, Sao Paulo, Brazil; International Biennial of Contemporary Art of Cartagena de Indias, Cartagena, Colombia; Bioderivas, Museo de la Naturaleza y el Hombre, Tenerife, Spain; Queens International, Queens Museum of Art, Queens, New York; Soundings: a Contemporary Score, Museum of Modern Art, New York. www.richardgaret.com
Sebastián Vergara is a composer whose works of orchestra and chamber music have been released and recorded by the Fort Worth Symphony Orchestra, the Norwegian Radio Orchestra, the Philharmonic Orchestra of Chile, and the Symphony Orchestra of Chile. Vergara also composes original music for films, documentaries and video art installations. Beyond music, his body of work includes mixed media and electroacoustic works, such as the album "Chamber Songs" and the projects <Ominous Objects>, <Carnaval Oscuro> y <Goliat>. www.sebastianvergara.com
Sokio is a New York based composer and artist. He has written and produced four operas, two albums and a variety of collaborative projects, featuring Tunde Adebimpe, Claudia del Fierro, Angel Nevarez & Valerie Tevere among others. He also works as a music supervisor in Latin America and the US and runs Ponk Records. www.ponkrecords.com

Postcard readers for recordings:
Alex Darby
Audra Wolowiec
Carolina Ravassa
Dulphe Pinheiro Machado
Guillermo F. Matta
Hernán Rivera Luque
Jacques Leon Decunto
Juan Pablo Sarmiento
Julio Terra
Kaitlyn Ellison
Karolina Ziulkoski
Kelly Nugent
Linnéa Mellander
Luisa Pereira
Marc A. Sinoway
Margherita Tisato
Nicole Costa
Puy Navarro
Rasu Jilan